Greetings Everyone.
Last Friday I've decided to do a weekly update on what's going on with my bloggy friend's and author's website. News on events, contest, interviews, release, new feature, etc., that will happen on their blogs this week. Probably not very original and probably has the lamest title but it will serve its purpose.
At the end of the post is a Mr. Linky. I would love to see what's happening on your blog this week.
This is one way of keeping up on what's happening on bloggyverse.
THIS WEEK ON MY BLOG
I have 2 ARC tours that are still open for sign ups:

HAPPENINGS ON MY BLOGGY FRIENDS THIS WEEK
Katrina of Bloody Bad
Event Name:
Book Art of The Week
Date:
3/6/10 - Saturday
What is it about?
It is a feature I have started highlighting bookish artists. This weeks artist is
Fran
Horne who repurposes books in prose. You have to see it to see what I mean, she is very cool.
Rachel of Parajunkee
Event Name:
Big Sis, Little Blog Mentor/Scholar-ship Program
Start Date:
Sunday, Feb, 28th
What is it about?
New Bloggers will have the chance to win a new Blog Design and a mentorship to fast-track them to getting recognized in the bloggyverse. It is an application process, five applicants will be chosen and readers will vote on the blogs of their choice.
Event Name:
Skyler White Interview
Start Date:
Monday, March 1
What is it about?
Interview of Skyler White, author of and Falling, Fly
Event Name:
Vamp
Week at Parajunkee's View & Blog with BIte, because of the realease of Hourglass the 3rd in the Evernight books
Start Date:
Tuesday, March 2nd
What is it about?
With the release of Hourglass by Claudia Gray, PJV is celebrating Vamp Week and highlighting hot vamps all week long. Tune in all week for vampy features and even a chance to win Hourglass.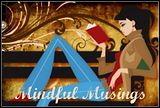 Natalie of Mindful Musing
Event Name:
Interview with Claudia Gray
Start Date:
Wednesday, March 3
What is it about?
We'll be discussing her inspiration for the series, what else she's working on, and her soon-to-be published book,
Hourglass
, the third installment in the
Evernight
series.
HAPPENINGS ON BOOKS & AUTHORS' WEBSITE
Jennifer Murgia
, author of the upcoming fallen angel book - Angel Star.
Jennifer has already mailed out her ARCs (woot!) after months of torturous wait it is finally here. I don't know about you guys but I cannot wait to get my hands on this one. If you haven't heard of this book yet, you are missing out, here's the
blurb
link directly to Jennifer's site to get a clue on what this book is all about.
There are 2 Angel Star
fan clubs
:

Note from the author:
I will be appearing on a guest post for
Park Avenue Princess
shortly and Angel Star will be featured on several blogs during the release week such as
Book Butterfly
and
Fantastic Book Review
for an Angel Star
Extravaganza
, which will include a contest and the giveaway of the pendant on the cover.
Blog tours Sign Ups on:
Other Shelf Tours
,
Princess

Bookie
,
Window-Pane Memoirs
and
The Crooked Shelf
UK kick-off tour
I will also have an interview with Jennifer sometime this month with a contest. I will also update you on upcoming events about this book one week before it happen. So stay tuned for that.
In the mean time here is the official book trailer:

How about you? What's Up on your blog this week?
I'm sure me and my readers would like to hear all about it.
If you wanted to let me know upcoming events on your blog next week please e-mail me and I'll be happy to post it on this Meme next week.
Please type you Blog URL, place the event name on the parenthesis and your direct link on Mr. Linky below:
Click here
to enter your link and view the entire list of entered links...